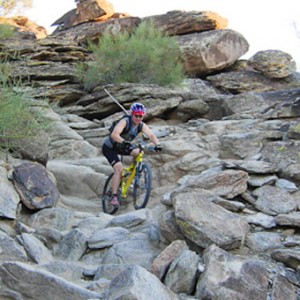 MountainBikeAZ has mountain bike trail information and reviews by our staff and our readers. Browse through our trails section to find a trail in the area you would like to ride. We rate the trails by skill, effort, type, season and mileage.
Check out our mountain biking photos from around the state. Photos of trails, races and whatever else we point the camera towards. The videos section has videos of trails and racing from around the state, plus videos we have collected around the internet that have to do with cycling.
We have some good articles on cycling and interviews with the pros. We used to have a journalist, but he has moved on to bigger and better things.