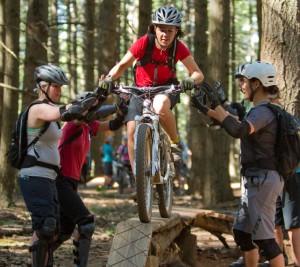 Trek Dirt Series Mountain Bike Camps – Fruita, Colorado September 24-25, 2011
The Trek Dirt Series has recently opened registration for their women's specific and co-ed mountain bike skills camps, offering confidence building and inspiring learning opportunities throughout Western Canada and the US.
The camps are open to beginner, intermediate, and advanced riders, and cover techniques from basic front wheel lifts and switchback turns to technical climbs, descents, and drops.
The program includes skill development sessions in the mornings, instructional rides in the afternoons, and bike maintenance clinics, food, and drinks in the evening.
Operating for over a decade, the Trek Dirt Series has an outstanding reputation for professional and motivating instruction, and for delivering new skills that make riding more fun than ever.
If you're at all inclined, or if you know of someone who might be, visit www.dirtseries.com for more details.