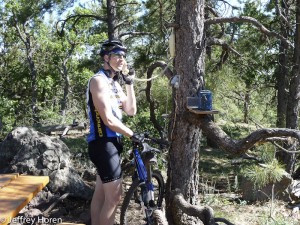 This Father's day weekend was supposed to be the Barn Burner race in Flagstaff, AZ, but a forest fire caused the race to be postponed. Since we had plans to go up north for the race, we decided to go for a mountain bike ride at Mt. Elden.
Crystal Point
We arrived Friday early afternoon to Dave's cabin in Munds Park. We unpacked our gear and went for a short ride near the cabin. The closest trail is Crystal Point Trail, a 1.3 mile climb up to Crystal Point. It is a fun short trail. See video, photos and Garmin readout below.
Sunset Trail – Mt. Eldon
Saturday morning we met Jason and his son Scotty at the parking lot on Schultz Pass Rd and Mt. Elden Lookout Rd. This has got to be my most favorite ride in Arizona. The beginning part kind of sucks if you don't like climbing. The first 5.5 miles climbs to the top of Mt. Eldon on a fire road. Once at the top we hooked up to Sunset Trail to Little Bear Trail to Little Elden Trail to Schultz Pass Trail. It was a great ride with great weather.
We went to Crystal Creek Sandwich Co. for lunch afterward. While we were eating lunch the Hardy fire broke out. It looked like it was a block away. Then the next morning is when the Schultz Pass fire broke out. Hopefully, both fires don't cause too much damage or get to any houses.
Munds Park Photos
Mt. Elden Photos